New House
Trinity Road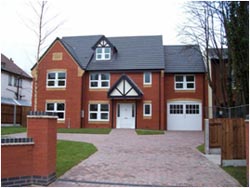 One new dwelling through John Grooms H.A. for an extended family with disabilities located in Aston.
Completed in 2006 this commission came through contacts in the housing association sector.
The brief was to accommodate a family of 10, 6 of whom were, or would be shortly become, wheelchair bound.  The design built on and extended from an existing house type previously built, as there is little point in re-designing the wheel, however, due to the numbers of occupants and their particular needs the resulting house bears little resemblance to its origins.  On a site that had lain vacant for many years the design endeavoured to fit between a mixture of housing styles and periods whilst maintaining a character of its own.
DETAILS:
Client:   John Grooms H.A.
Contractor:  E. Manton Ltd.,
Completed:  2006