New build residential
Hostel for Midland Heart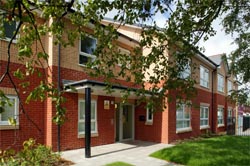 A mixed development of 8 flats providing move on accommodation together with a specialised building providing a mixture of self-contained units with communal facilities to meet a particular housing need.
Completed in 2009 this project had a long and protracted gestation period.  Russell Hobbis Architects worked closely with the user group through the initial design process and prepared many iterations of the basic idea.  Careful guidance and assistance was provided to the Client through the overall process from concept to completion.
Russell Hobbis Architects were novated from the Client to the Contractor to provide detailed working drawings as the scheme was completed through a Design and Build Contract.
DETAILS:
Client:   Midland Heart
Contractor:  Mansell Construction
Completed:  2009
Two new houses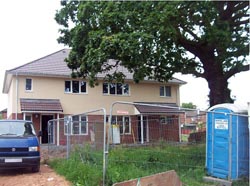 A simple scheme making use of a site previously occupied by lock up garages these two houses were specifically designed to suit particular housing needs and great care and attention was given to ensuring that the new properties were consistent with their neighbours.

The site was dominated by a mature oak tree which was retained and protected.

The houses were designed to and achieved Code Level 3 of the Code for Sustainable Homes.

DETAILS:

Client: The Wrekin Housing Trust
Contractor: Telford Building Contractors
Completed: 2009
67 apartments
14 retail units

A mixed development of 67 apartments and 14 retail units in the heart of the Jewellery Quarter.
Whilst only commissioned to produce working drawings from an existing planning approval Russell Hobbis Architects were required to resolve numerous basic spatial issues.  The final scheme is no higher than 4 storeys but has 10 different levels and these relationships had to be carefully co-ordinated.

DETAILS:

Client:   The Whitefire Group
Contractor:  Elmondstone/Whitefire
Completed:  2009
New Housing

A scheme providing large family dwellings to re-house residents from clearance areas
Russell Hobbis Architects worked closely with the identified future residents attending many evening meetings both as a group and on a one to one basis.
Careful control was required to accommodate the requirements of each family whilst maintaining the structure of the design.

DETAILS:

Client:   fch Housing and Care
Contractor:  E. Manton Ltd.
Completed:  2009
12 apartments

A scheme providing 12, 2 bedroomed apartments to replace a converted property long since past its sell by date.
Russell Hobbis Architects carefully designed the new building to fit within the footprint of the original so as not to impinge on the existing trees on the site or increase the overshadowing to adjacent properties.
Initially commissioned by the Client we were novated over to the contractor for working drawings.

DETAILS:

Client:   Midland Heart
Contractor:  Weaver plc
Completed  2009
New Special Needs Unit




For Russell Hobbis Architects this was a simple task of preparing working drawings for a special needs bungalow.
Our ability to produce information suit the Contractor's budget and timescale is typical of our desire to work with all members of the construction team.

DETAILS:

Client:   E. Manton Ltd.,
Contractor:  E. Manton Ltd.
Completed:  2007